Lectures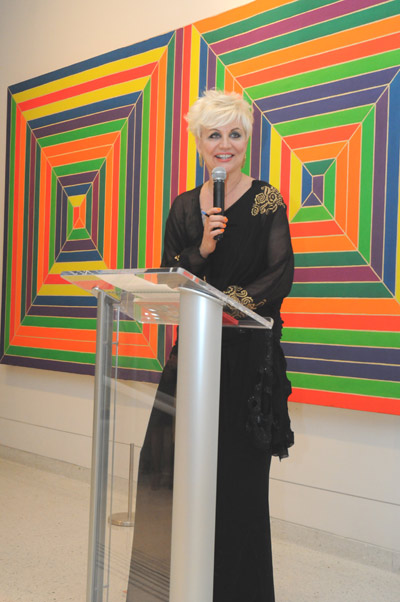 Museum of Art, Fort Lauderdale, FL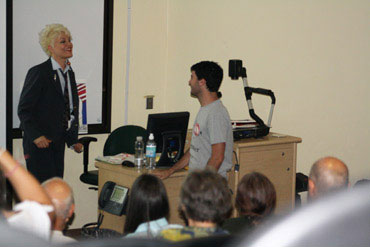 Previous Appearances:
Northwest School of the Arts, Charlotte, NC
Greenfield Community College, Greenfield, MA
Adelphi University, NY
Berkshire Museum, Pittsfield, MA
Cultural Institute of Malaga, Malaga, Spain
Apertura Comunicación Photo School, Malaga, Spain
Foto Mania, Malaga, Spain
Museum Of Art, Fort Lauderdale, FL
USF University of South Florida, St.Petersburg, FL
University of Arizona, Tuscon, AZ
Yale University, New Haven, CT
Birmingham Museum of Art, Birmingham, Al
Hallisch-Frankisches Museum, Schwabisch Hall, Germany
Treffpunkt Rotebuhlplatz, Stuttgart, Germany
The New Art Center, Newton, MA
The Frauen Museum , Wiesbaden, Germany
Webster University, St. Louis, MO
Walker Center for the Arts, on behalf of Greenpeace, Milwaukee, WI
Columbia University, New York, NY
Salt Lake Art Center, Salt Lake City, UT
University of Houston, Houston, TX
Univerity of Texas Health Science Center Houston, TX
University of Houston Clear Lake Houston, TX
Texas A&M Univeristy, College Station, TX
Univerity of St. Thomas Houston, TX
Millbrook Gallery, Concord, NH
Schloss Corvey/Hoexter, Germany
The New School, New York City, NY
University of the Arts, Philadelphia, PA
Prescott College, Prescott, AZ
Harvard University, Cambridg, MA
Miami University, Oxford, OH
University of Salt Lake, Salt Lake, UT
Suny College, Purchase, NY
Morehead State University, Morehead, KY
Suny College, New Paltz, NY
First World Breast Cancer Conference Kingston, Canada
Jersey Shore Breast Cancer Center, Eaton, NJ
Woman's Caucus for the Arts Houston, TX
Wellness Community of Greater Boston, Boston, MA
Rhone Poulenc Rorer IInc. Symposium Wiesbaden, Germany
Oasis, A Woman's Mental Health Center Birmingham, AL
Jewish Hospital Auxiliary, St. Louis, MO
Fassbender Gallery on behalf of Greenpeace, Chicago, IL
Brookdale Community College, NJ
Rachel Carson Institute, Chatham College, Pittsburgh, PA
Spectrum Gallery, San Francisco, CA
Emelin Theater, Mamaroneck, NY
American Medical Student Association, Washington, DC
Emerson Hospital, Concord, MA
Susan Komen Foundation, Sacramento Chapter, CA
Mt. Sinai Hospital Service Club Chicago, IL
American Cancer Society, North Brunswick, NJ
Hospital Consortium of San Mateo County, San Francisco, CA
Lynn Sage Cancer Research Center, Chicago, IL
Auxiliary of the Infant Welfare Society of Chicago, Chicago, IL
Memorial Sloan Kettering (Play For Time) South Orange, NJ
YWCA of Cincinnati Ohio, Cincinnati, OH
YWCA of the Central Carolinas, Charlotte, NC
William Patterson College, NJ
YWCA of New York City, NY
"Matuschka's multimedia presentation is best described as performance piece meets memoir meets artist statement. Chronicling the times through her own evolution, she makes serious and important claims about the social, political and commercial aspects of the female experience. With intellect, grace and humor, she explores the connections between the world, her life and her art. Especially impressive is that she not only acknowledges, but also honors teachers, mentors, and the works of others who influenced her life and art, revealing personal and artistic integrity that is refreshing, indeed.

Matuschka's style strikes a unique balance. Her beauty, deeply resonant voice, and stature create a commanding presence, yet she is warm and relatable. Her art and message inspire, while her insight and ideas expand perspectives. She embodies the idea of personal as political as creative. Matuschka's presentations are valuable and enriching, and I highly recommend her as a speaker."

Professor D.M. Anderson
Educational Consultant, private practice
"Thanks again for inspiring some students, irritating others, and provoking them all to think and grow in directions that they never imagined."

Dr. Deni Elliott
Eleanor Poynter Jamison Chair in Media Ethics and Press Policy
USF, St. Petersburg, Florida
"Matuschka is a provocative and animated speaker who uses the beautiful artwork she has created over her lifetime to tell her compelling story. She encourages her audience to laugh, to get excited and to really question what they view as comfortable. Her wide range of artwork and the stories behind that work appeals to any crowd. Audience interaction and humor make hers one of the most enjoyable, fun presentations I've participated in."

Amanda Decker
USF, St. Petersburg, Florida
"We were thrilled to have Matuschka talk at the graduate seminar on visual communications. Through her years of experiences and activities, she vividly demonstrated the use of visual languages in arts and the media to express her messages and emotions. It was truly an inspiring and precious conversation we had with Matuschka, whose work and messages had changed the world, and will continue to have a great impact on the generations to follow."

Dr. Xiaopeng Wang
Professor, University of Southern California
"Your talk captured the attention of every woman in the audience. The manner in which you have taken charge of your life is very admirable. Thank you again, Matuschka, for being a worthy recipient of our Humanitarian Award."

Carol Rudoy
President, Mt. Sinai Hospital Service Club, Chicago, IL
"I heard you speak at William Patterson College and am so glad to have been there. I've had few chances to hear someone speak so eloquently and so much from the heart. It was also wonderful to see so many young women interested. Congratulations to you and thanks. You are doing so much good!"

Tracey Davis
New York
"Thank you again for taking the time to speak with my students. They were genuinely thrilled to meet an artist and activist of such importance. I cannot tell you how much your show inspired my students and me. It was the perfect way for us to gather together our studies in Feminist Philosophies. Your work challenges us to rethink the concepts of femininity as well as the social politics of health. Thank you for your compelling work."

Dr. Anne Hetzel Gunkel, Prof. of Philosophy
Carthage College, Kenosha, WI
"We wish to thank you for the exciting presentation at Brookdale I especially enjoyed the story of how your picture appeared on The New York Times. It was also intriguing to see slides of your art. Your presentation was overwhelmingly well received."

Susan Craig, Program Administrator
Brookdale Community College, Lincroft, NJ
"It was a privilege to hear you speak at Brookdale Community College. You are one of the most enjoyable speakers I have heard. Your sense of humor makes your talk so much more enjoyable and the information you share makes it a wonderful learning experience."

Nelle Robberts
Clarsburg, NJ
What I most admire in your work is its beautiful treatment of such strong and "ugly" truths about our ways of seeing and standards of beauty. It is from this aspect that I learned most, because it enables the work to be direct without being dogmatic; it teaches without attacking, and most importantly it challenges the viewer by forcing her to think about what she sees, not forcing the thoughts themselves.

Jennifer Fiore
Columbia Student
Contact: matuschka@verizon.net