Media and YouTube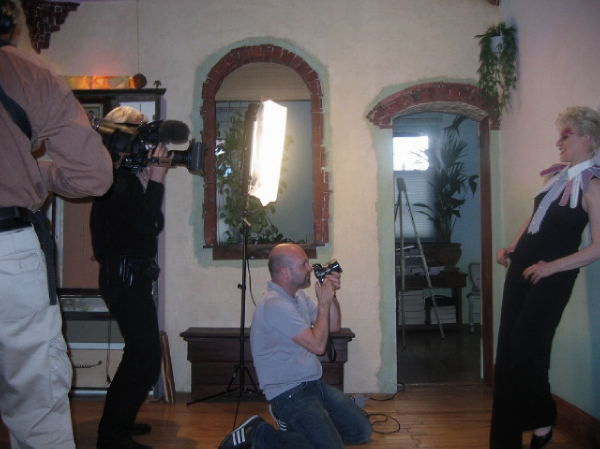 Recent (2006-2013):
Reaching a wide audience through television and film, Matuschka and her work have been featured in variety of international programs and documentaries since the early nineties.
In 2013, the artist was featured on CBS Sunday Morning and Inside Edition. A documentary "American Swing," which looks at the 1970s swingers' club Plato's Retreat, with an interview of the artist, was released in March 2009.
In Germany and Holland, Matuschka has been a guest on the prestigious television programs "People Behind the Headlines," Premiere, Schreinmakers and Nacht show among many others.
In 1992 Matuschka was featured in the documentary film "Part Time God" which opened at the Dutch Documentary film festival.
In 1998 the artist had a cameo performance in a made for TV movie for German TV (ZDF) "Life Is the Main Thing" which aired in 1999 and was shown at the Museum of Modern Art in NYC, December 1999.
Most recently the artist appeared on Arte Cultural Channel: (Prime Time Germany and France) in a special entitled "25 and Over" and on "Vanity Insanity" Prime Time TV of Canada and syndicated Globally.
In the United States profiles off the artist have aired on a wide range of programs including "Extra" and "Inside Edition" in 1999. In 2004 Matuschka appeared on Boston's Public TV Station Greater Boston with Emily Rooney.
An interview with the artist aired on the Public Radio Program, The Front Porch (NHPR) with John Walters, October 2004.
Matuschka was also featured in the PBS Health Chronicles "From Heart Break to Hope". In 1995 Matuschka was a Special guest on Scottish Women, Glasgow, Scotland, on ABC's World News Tonight, Peter Jennings' Person of the Week, CBS This Morning, Good Morning America, CNN's Sonya Live, Ted Kopel's Niteline, The Charlie Rose Show and Lifetime's Queen's Show.
Additionally, since the 90's the artist has appeared on the Phil Donahue Show, The Maurey Povich Show, John and Leeza, The Home Show, the Jerry Springer Show, VH-1's Fashion TV with Jeannie Becker, The Rolanda Show, The Leeza Show, "One in Nine" a Breast Cancer Alert on Fox Five, &AM Philadelphia.
The Canadian film "Exposure" narrated by Olivia Newton John and released internationally in 1997 features numerous activists, scientists and doctors concerned with the environmental link to disease. Among those portrayed are Matuschka, Rachel Carson, Bella Abzug and Dr. Devera Davis.
Contact: matuschka@verizon.net
The Ruins (1986-2006)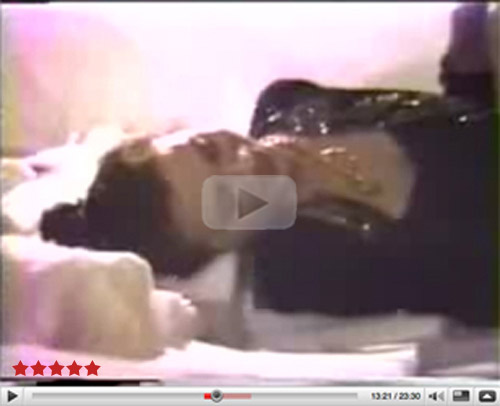 The Ruins began with a sound track, written by Matuschka in 1986, and illustrated with photos the artist took of herself in abandoned buildings wearing or posing with a variety of plaster casts. In 2006 Matuschka stumbled upon an abandoned castle in Lenox Mass. Shot by Thomas Halaczinsky, this decaying 'fortress' is used as a backdrop to showcase a wide range of artwork created by Matuschka in the 20th century. Some of the footage included in this piece was shot by the Dutch documentary film maker, Paul Cohen, for his 1992 film entitled "Part-Time God" which opened at the Dutch Film Festival that year.

"The dreamlike world in Matuschka's work is an exploration of flesh and steel, of the supple and mysterious container of the feminine torso against the cold sharpness of broken glass and peeling paint. All is in Ruin. The passion of life has degenerated and has been abandoned like an empty apartment with the wind passing through a broken window."

Jay Spica 1989 Freesia Magazine
Charlie Rose (1994)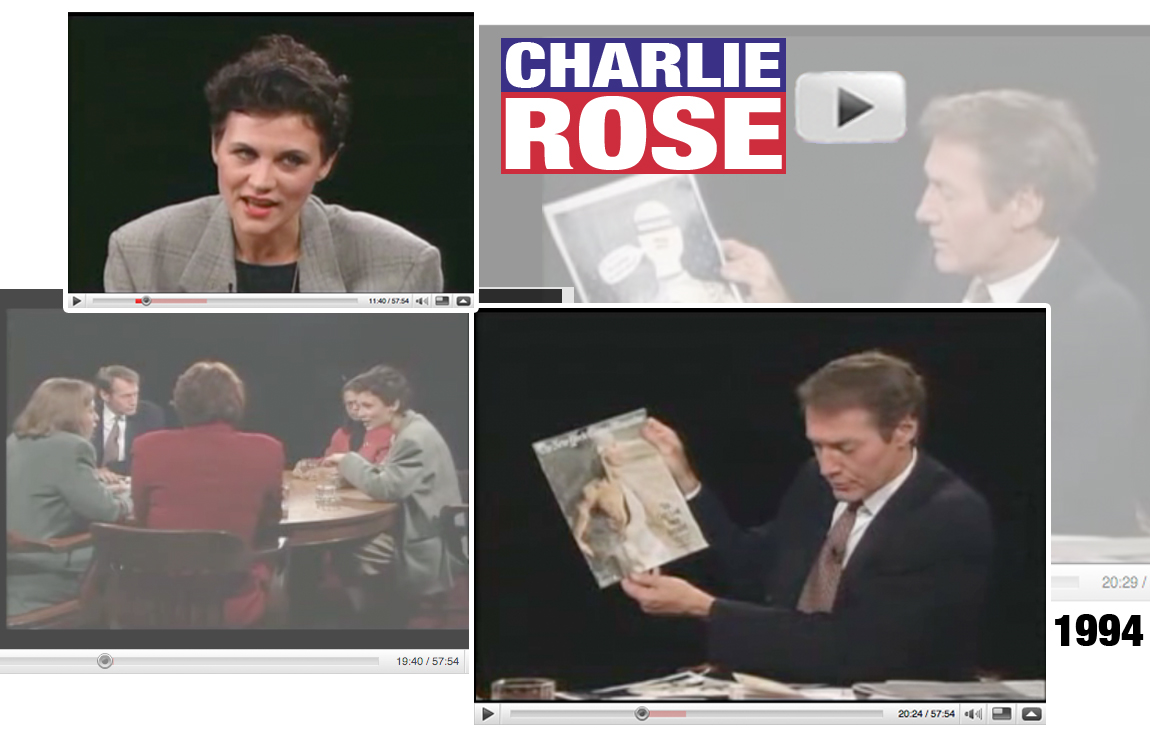 The Chelsea Hotel (1977)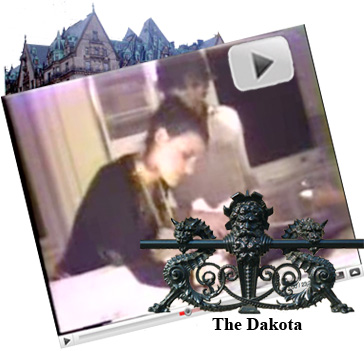 This is a rare piece of footage documenting the work of four individuals who came together at the Chelsea Hotel one summer evening in 1977 as the punk rock era was underway and Johnny Thunders was rocking it out with the New York Dolls.

The NY underground videographer at that time, Anton Perich, had just launched his cable TV series entitled "Fashion" and what better way to kick off the fall season than to have Charles James, not only the greatest American couturier, but the world's best dressmaker showcase some of his most famous gowns on model Matuschka.
Featuring an interview by the precocious publicist, society columnist and New York's favorite social mountaineer, R.Courie Hay--this footage documenting Charles James and his classic designs is both comical and illuminating. It reveals a time in NY that had become a beacon of optimism, experimentation, and dynamite stick of liberty for many artists, entrepreneurs and hipsters thriving during that time. The still photos in this clip, taken by a variety of photographers, including Jeff Dunnas and Anton Perich, capture a bit of Matuschka's modeling career while she moonlighted at night as a video assistant, interviewer and editor.

John Chamberlain at the Dakota (1976)

The late 20th Century with its blooming pop culture has produced a few iconic figures--many in New York--who have shaped our perception of this time and who have captured our imagination ever since. Avant-garde Artists, Musicians, Underground Filmmakers Models and Actors, who appeared quite often literally out of nowhere, came to blossom, had their 15 minutes of fame - and vanished.

Matuschka, along with film maker Anton Perich is one of these archetypical characters who against all odds is still around. A wildly beautiful model in her heydays, Matuschka attracted the attention of artists like Salvatore Dali, Anton Perich and John Chamberlain, while living the life of a jet setting model between New York--Paris, London and Milan.
In this segment, the great sculptor John Chamberlain makes a couch/sculpture for artist John Hersey at the Dakota Apartment Building in 1976. This long unedited clip by Anton Perich documents Chamberlain's creation while Matuschka and many others observe--or in Matuschka's case--takes a stab at the Styrofoam and helps with the carving.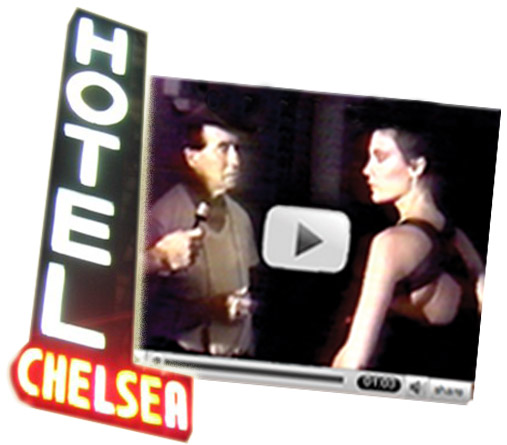 News Reel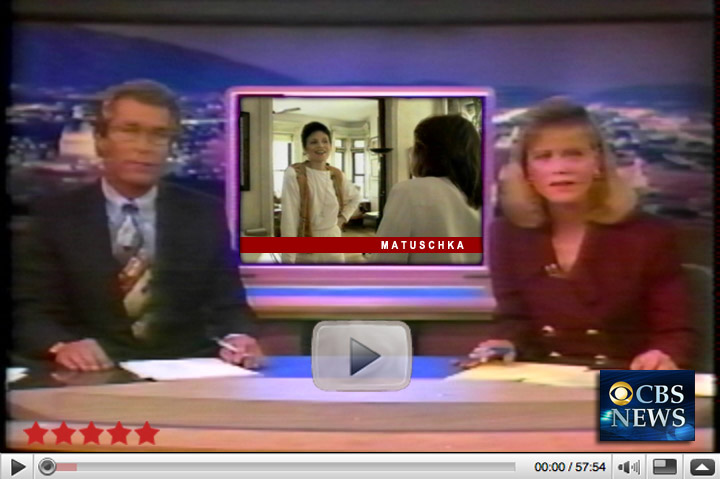 In 1993 Matuschka made worldwide headlines when her self-portrait entitled "Beauty out of Damage" was published on the cover of the Sunday New York Times Magazine. This photograph generated 12 awards (including a Pulitzer Prize Nomination) and subsequently The New York Times received an unusually high amount of letters to the editor, ranking it as one of the most controversial covers in its history. News coverage on TV was extensive and this you tube represents a cross section of programs both the artist, and photograph were profiled on.

By the mid nineties "Beauty Out of Damage" became one of the most published pictures in the world appearing in hundreds of international publications, books, TV shows and documentaries internationally. Ten years after "Beauty Out of Damage"s debut, the image is still in demand, often published in scholarly and academic journals related to sociological issues on health, medicine, beauty and body image. In 2003 LIFE Magazine include this photo in a special edition entitled "100 Pictures That Changed the World."

Most recently in November 2008 Inside Edition featured this picture to accompany a segment about Christina Applegate, an actress who underwent a double mastectomy in 2008.